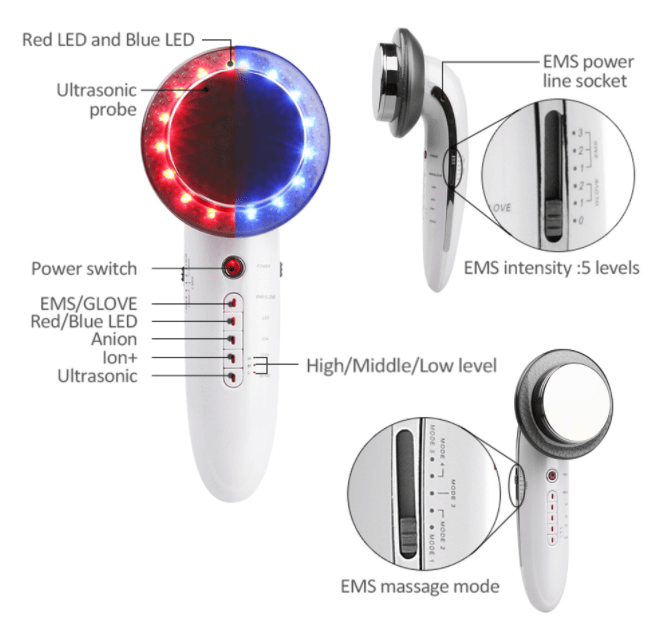 ACCELERATES METABOLISM AND ENHANCES TISSUE REGENERATION
The Ultrasonic Body Shaper is an effective ultrasonic facial and body beautifying massager. It features ultrasound frequency of 1MHz, which is a High frequency microseism of 1 million times per second that can cause volume change and movement of each cell in the body tissue, accelerating metabolism and enhancing tissue regeneration.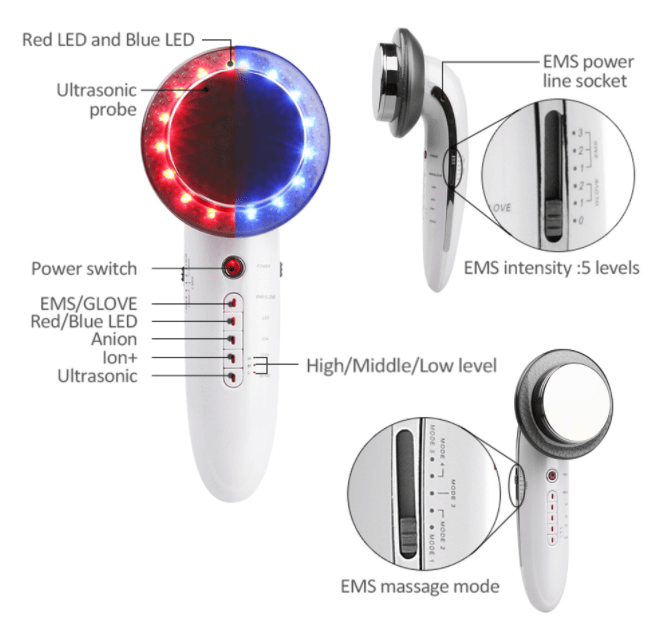 SKIN REJUVENATION INFRARED HEAT THERAPY
The Ultrasonic Body Shaper can also provide skin rejuvenation using infrared heat therapy. The infrared ray penetrates into the subcutaneous tissue of the skin, promoting atomic and molecular resonance of human cells, promoting fat burning and accelerating blood circulation. It enhances skin texture, fades wrinkles, helps fight fatty areas and tightens skin.
EMS TREATMENT FOR SKIN AND BODY SLIMMING
Electronic Muscle Stimulation (EMS) has a Low Cycle Wave Function. The Function focuses on tendons and collaterals and can effectively relieve various diseases by using a micro current massage, electric stimulation of muscle movement, and achieve the slimming effect.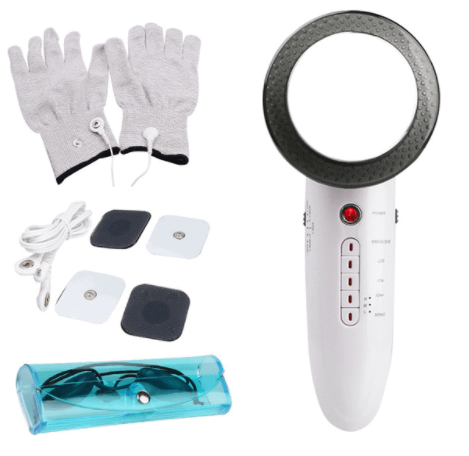 VIBRATION MASSAGE FUNCTION
The vibration frequency of 8000-10000 can induce the activation of six proteins in the dermal tissue and help get rid of fine lines. It imitates real person tapping, beating, massage, kneading and acupuncture. Quickly and effectively reducing and giving relief from severe chronic back pain and other sort of body aches.
USER FRIENDLY DESIGN
Our Ultrasonic Body Shaper holds a mini and stylish appearance, convenient to carry, easy to use. Equipped with professional electrode gloves and goggles, CE certification, safe and painless, to achieve your slimming dream.
SPECIFICATIONS:
Material:

Plastic

Adapter Input Power

: AC100-240V Adapter

Output Power:

15V, 800mA

Color:

White

Type:

EU, US, UK, AU

Size:

182 * 80 * 88mm